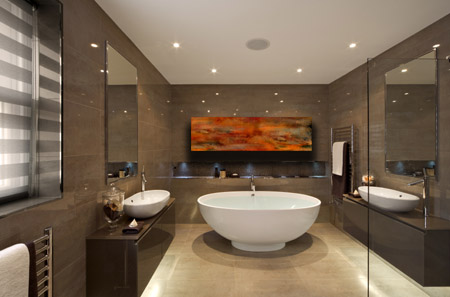 Fire is an abstract landscape shown above in a bathroom setting.
48″ x 18″  Transfer onto copper.
A stunning digital watercolor with salt used to supply texture.  It is transferred to two panels of aluminum.
Colors are blues and yellows.
Size for total of two panels:  60″ x 48″
Detail:
Mandarin Orange
48″ x 16″
Copper
$1,800.00
Indoor / Outdoor Art
My digital images are printed onto transparencies and layered over copper or aluminum sheets. The metal and image is mounted to a wooden box backing which has been treated with waterproof deck stain. The entire surface is then covered with acrylic resin which seals and protects the image. It also provides a glassy 3-D effect to the finished piece.
As waterproof as it can be, it can be used outdoors or in.
The Studio is in full screech mode as we work to finish projects and pack for the ArtExpo at Pier 94 in New York City. The Show runs from April 23 – April 26. We are in the SOLO show for individual artists in Booth S212. If you're going to be in or near NY come see my new metal work in person.
I've just posted the collection of mono-prints on metal that I told you about in the last post. I ended up with 23 images instead of the 15 I though I had. I guess I kept making them and making them. They are rather addictive.
To the left is my favorite – The Wizard!
You can see all of them in my new shopify store which I'm just setting up at http://shop.withdigitaleyes.com.
They are under One-of-a-Kind and then Mono-prints on Metal from the navigation bar.
This is a fractal art monoprint transfer to copper. It is displayed between two 12 x 12″ squares of plexiglass offset with copper spacers. There are 15 of them in the collection which will be posted soon.
Detail shots of side and back are below:
I've put my copper books (see the earlier post) and some nostalgic photoart prints (not my abstract stuff) in a new store called Metal and Memories on Etsy.  Use the link or search for withDigitalEyes – our studio name.
Below are two of the photoart prints only available on Etsy.
Haying the old fashion way – a restored and colorized photo from the family's album.
Necessary Equipment – a photo of the "junk" that my father-in-law had accumulated in his barn.
A new batch of copper books are waiting to be sealed. There is a new title front and center.
A Lesson for Siblings: Growing apart doesn't change the fact that for a long time we grew side by sides, our roots will always be tangled.